The LEGO set dedicated to R2-D2, Star Wars 75308, has been officially announced.
Back in 2012 LEGO produced the set 10225, a UCS that represented the iconic droid from the Star Wars universe, R2-D2, on a quite large scale! It contained 2127 pieces, consisted of an exhibition plate and was priced at € 179.99. You can find much more information and pictures about it HERE.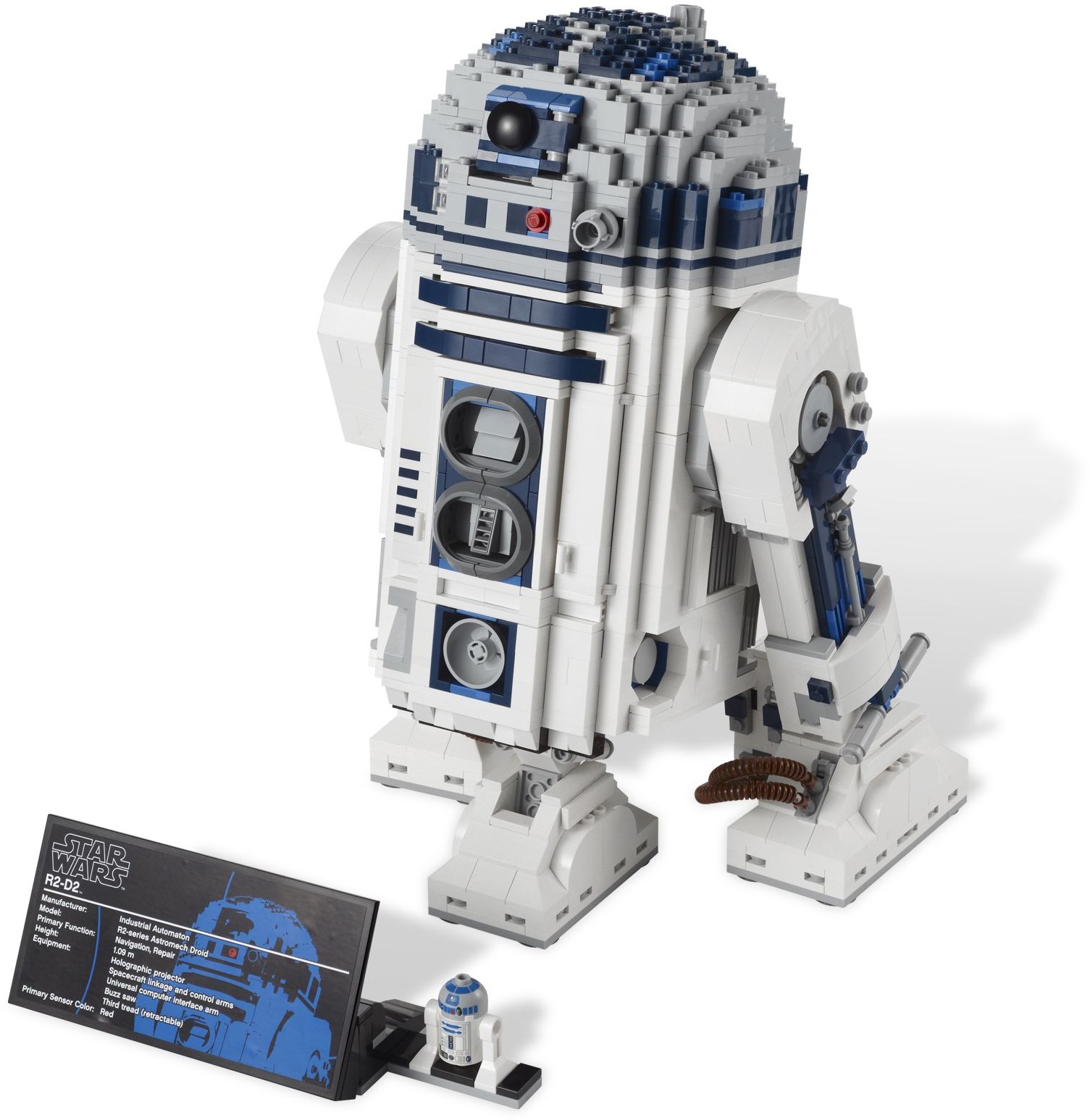 The 2021 reissue volume
Yesterday a first teaser arrived on the official social accounts that you can see below, a photo of the piece celebrating the 50 years of Lucasfilm and the minifig of the droid which are included in the set:
Today, however, The LEGO Group has announced a re-edition of the previous set, which, despite much tracing the old version, from an aesthetic point of view seems to have a more modern aspect, certainly later we will see how the construction techniques have changed.
The set has the code 75308, has the name of "R2-D2" contains a total of 2314 pieces and for a price of 199.99 € will be sold starting from May 1st, 2021.
The dimensions of the droid are as follows:
31 cm high;
20 cm wide;
15 cm depth.
Complete gallery here:
And at the end, the official description of the set:
Relive classic Star Wars™ moments as you build this exceptionally detailed R2-D2 LEGO® droid figure. The brilliant new-for-May-2021 design is packed with authentic details, including a retractable mid-leg, rotating head, opening and extendable front hatches, a periscope that can be pulled up and turned, and Luke Skywalker's lightsaber hidden in a compartment in the head.

Build and display
This cool construction model comes with a buildable display stand, featuring an information plaque, R2-D2 LEGO droid figure and an exclusive Lucasfilm 50th anniversary LEGO brick, to complete an awesome centerpiece for your home or workplace.

Special gift
Part of a premium-quality collection of LEGO Star Wars building kits for adults, this set would make a wonderful gift for yourself, Star Wars fans and advanced LEGO builders.

Build and display this fantastically detailed, new-for-May-2021, LEGO® brick model of an iconic character from the Star Wars™ saga: R2-D2 (75308).
Authentic features include a retractable mid-leg, rotating head, opening and extendable front hatches and adjustable periscope, plus a lightsaber hidden in a compartment in the head.
Includes a buildable display stand with an information plaque, LEGO® Star Wars™ R2-D2 LEGO droid figure and a special Lucasfilm 50th anniversary LEGO brick.


This premium-quality set is part of a series of collectible LEGO® Star Wars™ build-to-display models.
Offering a challenging and rewarding build, this 2,315-piece set makes an awesome birthday present, holiday gift or surprise treat for any Star Wars™ connoisseur and LEGO® Star Wars lover.
Measuring over 12.5 in. (31 cm) high, 7.5 in. (20 cm) wide and 6 in. (15 cm) deep, this collectible, brick-built R2-D2 model makes an impressive centerpiece in a home or workplace.


Thinking of buying this set for a Star Wars™ memorabilia collector who is new to LEGO® building? Don't worry. It comes with clear instructions so they can tackle this complex build with confidence.
Collectible LEGO® Star Wars™ sets for adults are designed for discerning hobbyists who enjoy DIY projects to disconnect from their day-to-day lives in a mindful, creative and fun way.
LEGO® components meet rigorous industry standards to ensure compatibility and a simple, secure connection every time.
LEGO® bricks and pieces are tested in almost every way imaginable to make sure that they satisfy stringent global safety standards.
What do you think of this set? Will you buy it? Do you have the previous version? Let us know in the comments! We remind you that the 75308 set will be available starting May 1st.